-David S.-
Did you know that Martin Luther King Jr. and baseball have a connection?  Martin Luther King Jr. looked up to Jackie Robinson and Jackie inspired him as well.  King once called Jackie, "a legend and a symbol in his own time." Here are some tid bits I found from Sports Illustrated:
[A]s Robinson's career was winding down with the Brooklyn Dodgers, Robinson started to speak out for civil rights. Many people in the press and civil rights community discouraged Robinson from taking this step, worried it would tarnish his image, and even argued that as an athlete Robinson had no vocal place in the struggle. But King, by then the movement's undisputed leader, said that Robinson had every right to speak because he was "… a pilgrim that walked in the lonesome byways toward the high road of Freedom. He was a sit-inner before sit-ins, a freedom rider before freedom rides."
An emboldened Robinson toured the south to speak for civil rights and became the most requested speaker on the circuit: more requested than even Dr. King. He would end every speech the same way, saying, "If I had to choose tomorrow between the Baseball Hall of Fame and full citizenship for my people I would choose full citizenship time and again."

Yahoo.com: MLB.com's Richard Justice has more about King, who wasn't afraid to tell pioneering ballplayers like Don Newcombe what they meant to him and the greater good:

A few weeks before King was killed in 1968, he told Newcombe, "You'll never know how easy you and Jackie and Doby and Campy made it for me to do my job by what you did on the baseball field."

Newcombe remembered those comments during a 2009 interview with the New York Post's Peter Vecsey.

"Imagine, here is Martin getting beaten with billy clubs, bitten by dogs and thrown in jail, and he says we made his job easier," Newcombe told Vecsey.
Also, Jackie Robinson wrote MLK  a personal letter, here it is.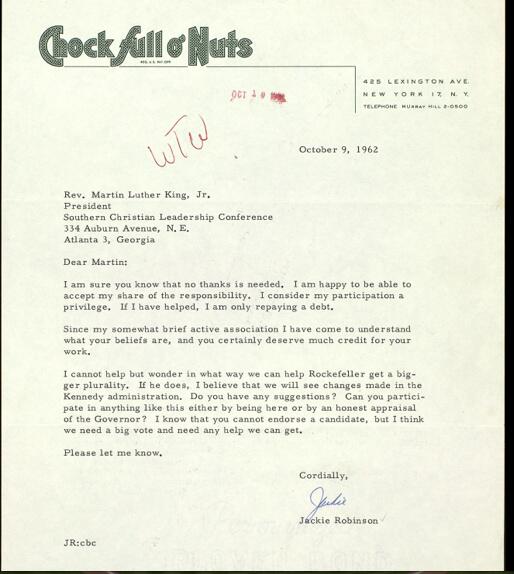 In this letter Jackie Robinson is taking on a role with King's Southern Christian Leadership Conference.  Jackie also supports New York Gov. Nelson Rockefeller, and then questions King's view on him. It's intriguing to know MLK and baseball have a very strong connection!  One thing that  shocked me most was when MLK said, "You'll never know how easy you and Jackie and Doby and Campy made it for me to do my job by what you did on the baseball field."  After all King went through he  thought he had it easy! WOW! Let's remember and honor Martin Luther King Jr. today and always by following his lead as a non-violent, selfless team player!
  Photos Via: