-David Strobach-
All stats are starting from the morning of July 5th
At the beginning of the season, not one single sporting agency predicted the Milwaukee Brewers to be in first. The Cubs were suppose to ride easily into another postseason and repeat.  Yet, it is past July 4th and the Brewers are riding high in first place.  How has GM David Stearns done it?
Stearns worked has his magic by wheeling and dealing earning his nickname "Slingin' Stearns." The Brewers totally robbed the Red Sox.  Stearns sent reliever Tyler Thornburg in exchange for 3B Travis Shaw, RHP Josh Pennington, SS Mauricio Dubon, and SS Yeison Coca. Pennington and Coca are both raw young talents while Dubon is the top prospect in this deal, currently hitting .266 with 32 stolen bases across AA and AAA. Most notably, the Brewers have appeared to find their cornerstone 3B in Travis Shaw. Shaw currently hosts a .928 OPS and 18 home runs and is better than the reigning MVP Kris Bryant in just about every category. The Brewers have years of control on Shaw as he is not set to hit free agency until 2022. Shaw is putting up all-star numbers and it appears he will miss out on the midsummer classic which would be a travesty. An injured  Tyler Thornburg has still not pitched in a game for Boston…
It was controversial when Stearns decided to cut ties with NL home run leader 1B Chris Carter and sign WWE wrestler, I mean Korean baseball player, 1B Eric Thames who was a huge question mark. Thames first MLB stint did not go well, so he went to Korea to figure things out. There he mashed over .320 every year, an overall OPS of 1.178, and slugged 124 home runs in 3 years! He was so good in Korea that there was even a song made for him and he was viewed as a god!  There was no way of telling how he would translate back into the MLB, but he has been a stud  with a .949 OPS and 23 home runs. He has become a fan favorite in Milwaukee as we all "revere the beard." He has brought so much energy to this team, just look at this crazy celebration.
At this rate, you won't need to go to your local fireworks tonight! @EricThames blasts his 2nd HR today (& the Brewers' 4th).

6-1 Crew! pic.twitter.com/hE0srBje82

— Milwaukee Brewers (@Brewers) July 4, 2017
To back up Eric Thames, Stearns claimed minor league slugger Jesus Aguilar off of Waivers from the Cleveland Indians. Aguilar has been a fantastic back-up and pinch hitter, posting a .866 OPS.
Orlando Arcia is hands down one of the most exciting players in the MLB. Every day Arcia is making a dazzling a play, interacting with a fan, or doing something insane on the base paths. Arcia is always dancing, laughing, and the having the time of his life. He plays the game how it's supposed to be played, with heart!
He has worked himself up to the same young elite shortstop category of guys like Francisco Lindor and Corey Seager. He is fully living up to his top prospect status. Even though his career started slow in the batter's box, he has hit .366 since May 18 which leads the MLB. His average has risen from the low .200s to .295 now!
Just watch this play:
As promised, here is a look at @orlandoarcia9 scoring from 1st on a ball that never left the infield! #ThisIsMyCrew #MILvsBAL pic.twitter.com/0xNcjWLzGq

— Milwaukee Brewers (@Brewers) July 3, 2017
And a little bit of what he can do with the glove:
Would you rather end a game with a walk-off homer or this bit of magic? pic.twitter.com/4w0vTuD9m9

— MLB (@MLB) June 22, 2017
ChACE Anderson, Jimmy Nelson, and Corey Knebel
Chase Anderson (acquired via the Jean Segura trade)  and Jimmy Nelson have broken out as aces for the Brew. They have posted a 2.89 ERA and 3.20 ERA respectively. Both keep the Brewers in every single game. When Junior Guerra (claimed off waivers from White Sox) has his location, he's an ace. The bullpen is shaky except for when all-star Corey Knebel (acquired via the Gallardo trade) is called upon in the 9th. He has been unstoppable posting a 1.13 ERA and breaking the record for most consecutive games with a strikeout by a reliever to start a season.
Former A's and Nerd Power
2B Eric Sogard was injured all of last year, but Stearns took a chance on the former Athletic. As Villar has struggled and battled injury, Sogard has filled in incredibly well hitting over .330 and an OPS of .924 while playing outstanding defense. The A's waived 2 time all-star Stephen Vogt and Stearns took a chance on the catcher. Vogt has started off hot with the Crew hitting 3 home runs in his first 6 games. Vogt is complimented by breakout catcher Manny Pina who has an OPS 0f .818 creating a dangerous catching tandem.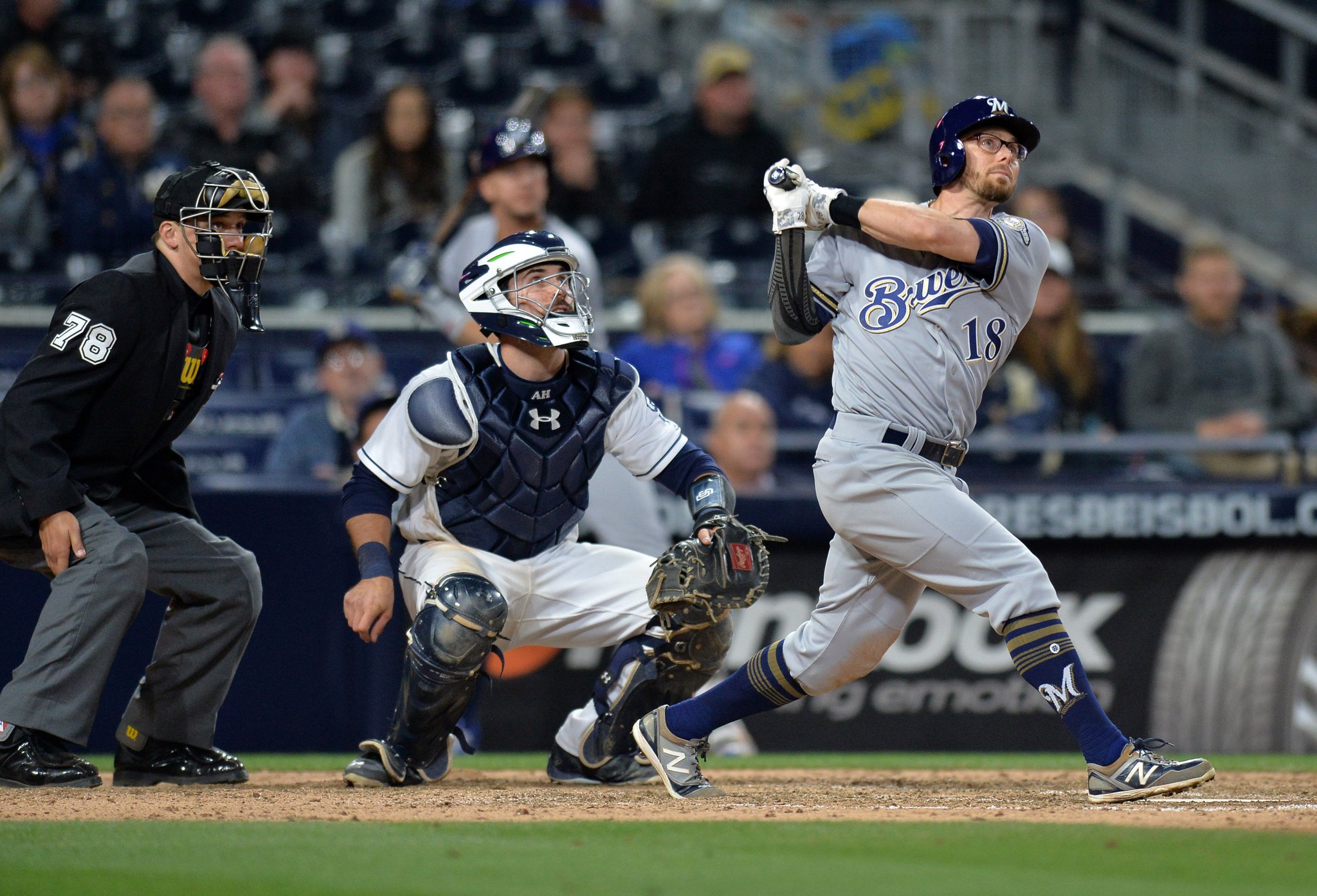 David Stearns has assembled a pretty complete roster that is only a few pitching pieces away from being a World Series Threat. Led by the pieces mentioned above and other key contributors  Domingo Santana (acquired via Carlos Gomez deal), Ryan Braun, Keon Broxton (acquired through Pirates minor league deal), and Hernan Perez (Claimed off waivers by Tigers), the Brew Crew are a new force to be reckoned with. David Stearns has shown absolute brilliance in assembling this roster.  There is a slew of rich minor league talent that is yet to arrive, led by top prospect Lewis Brinson.  This team hasn't even scratched the surface of their potential and will only get better. There is something special brewing in Milwaukee.